Genshin Impact 2.0 update Kamisato Ayaka Complete Showcase leak and introduction. 神里綾華 原神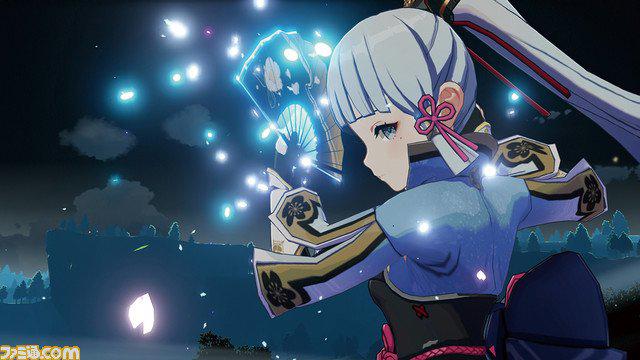 Kamisato Ayaka Complete Showcase. Skill moves, water surface ice skating, glider, walking and boss fight. November 11 ver 1.1 update => delayed to 2.0 2021
(Updating 2020 Oct 30)
Who is Kamisato Ayaka in Genshin Impact?
Kamisato Ayaka (神里绫华 / 神里綾華) is a playable character that will be deployed in future update. She was once in the FIRST CBT (closed beta test) server in China. She was NOT available in the Final Closed Beta Test and is not available in 1.0 release server. She is a Cryo Sword 5 stars rarity character from future Gacha. She will not be the strongest character in game but her CV (Seiyuu) is Saori Hayami 早見沙織 so that many players are waiting to sacrifice their money.
Kamisato Ayaka Complete Showcase
Here is the leaks from Chinese beta testers. This includes a 360 degree character display, skills set details (in Chinese), skills moves, glider move, small boss fight and ice skating tricks walking on water surface during exploration.
When will Kamisato Ayaka release
outedated info According to our analysts, the expected date should be November 11 in 1.1 version update. This is because the character is not yet inside the game yet. Unlike other characters who have already be seen in the unlockable missions after adventure level 32. She will be released when the new region Inazuma is released in 1.1 update.
It is not too possibly that it might be a new character from the coming gacha pools after Venti percentage up.
(Updated 30th Oct)
According to the roadmap current official released and coming leaks of 1.1 and 1.2, Inazuma will be releasing in 2.0 which is early 2021. I know I know it is gonna be a long time. 1.1 to 1.3 updates will not update the world map to the new Japanese styled area Inazuma. Our reader Paradisus reminded us in Discord that every character is likely requiring its own origin's materials for upgradings. In which Dragonback area in 1.2 will still be in the old map.
Will Kamisato Ayaka be free after level 42?
No, Kamisato Ayaka will most likely NOT to be free according to our analysts. The rumours originally came from an inauthentic users of a random discord and somehow spread viral among the west even to the east. Never directly trust anything you read online (including us) without concrete evidence.
In the past, MiHoYo typically will only "leak" the details themselves in Chinese community in order to create the hype for new updates. The gameplays of Ayaka were all leaked by pioneer testers from the first CBT.
Please come back and check out regularly for new information. We will keep updating and kept you informed. Remember to follow our socials including twitter and donation us a coffee if you love to. @ us to start a conversation or pm us if you got secret information or topic you want us to investigate.
Follow our twitter @Nipponhashi . Join our Discord . Subscribe to our youtube to get the latest information.
References Used : Bilibili