Real Genshin Impact 1.1 CBT CN leak details by sacrificing one player himself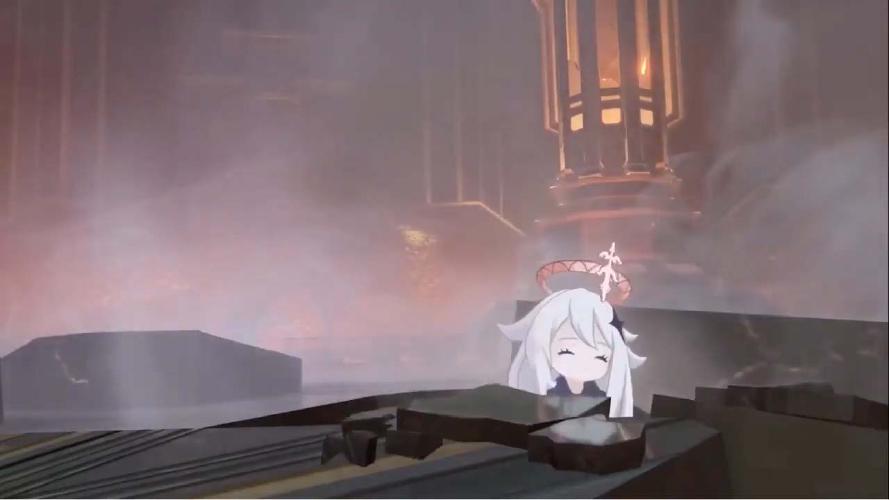 One player sacrificing himself for leaking the REAL CONFIRMED Genshin Impact 1.1 CBT CN details with PROOF. November 11 ver 1.1 update.
(Updating 2020 Oct 25)
SPOLIER ALERT
Skip the videos if you do not want to know about the story. Leave now if you do not want to know about any details of new characters, items, weapons and events.
Zhongli Showcase, Childe Boss Fight Golden House Story Quest 1.1 leak video Genshin Impact 原神 on our Youtube channel
Here is what wojtek_kun found and translated so far. That's a lot of words in a short period of time. It could be scuffed as we try our best not using any translations people stole from one another online. If you have any ideas or opinions feel free to follow his own and/or our twitters and discords and youtube channels. We try our best to read most of the comments if possible.
For the skills name we will not do any translates as half of the time English version is totally different from original Japanese/ Chinese version.
Who is the leaker and how do you know it is real?
FIRST OF ALL. F in the comment.
Recently, Genshin Impact has carried out an internal test of the version 1.1 on the CBT Chinese test server. Many Chinese brothers, or some of you, have already obtained the qualified spot for the test server. Although MiHoYo STRICTLY PROHIBITS players who participating the 1.1 closed beta testing from streaming, posting videos or any tyoe of contents online as spoilers, they DID NOT stop one of the hero, the legend, the myth player UID 100421 from leaking to the public. UID 100421 sacrificed himself for all of us and got BANNED from the MiHoYo official and it POSTED a notice, as another form of confirmation towards the authenticity of the leak.
F For the Brother.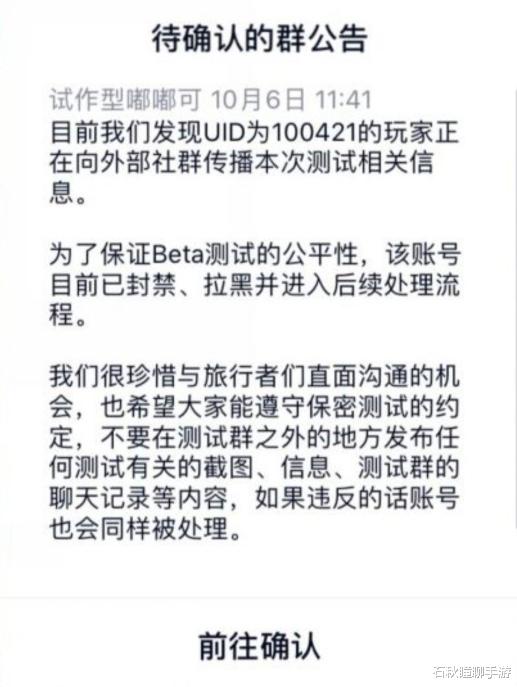 To summarise the notice:
it says MiHoYo found out UID 10042 spread the leaks in the internet about the beta testing details.

They want the Beta test to be fair and therefore the corresponding leaker is banned from the game immediately.

They would love to communicate with the dear Travellers but as well they wish Travellers can comply to the rules of CBT. Do not printscreen or posting any details online. Otherwise your accounts will be banned too.

All the related posts and threads have been deleted and banned immediately but of course for us as the best source of leaks and insider news, we obtain the copies and backup with other netizens so that UID 10042 will not die in vein. Here are the details from 100421 before he sacrifice and left all of us.
What does MiHoYo give to Genshin Impact version 1.1 beta test players?
First of all, the MiHoYo distributed every single resources for free to all the beta test players including new characters who come along with version 1.1. There are currently four characters, two 5 stars character and two 4 stars characters in addition to a few new weapons.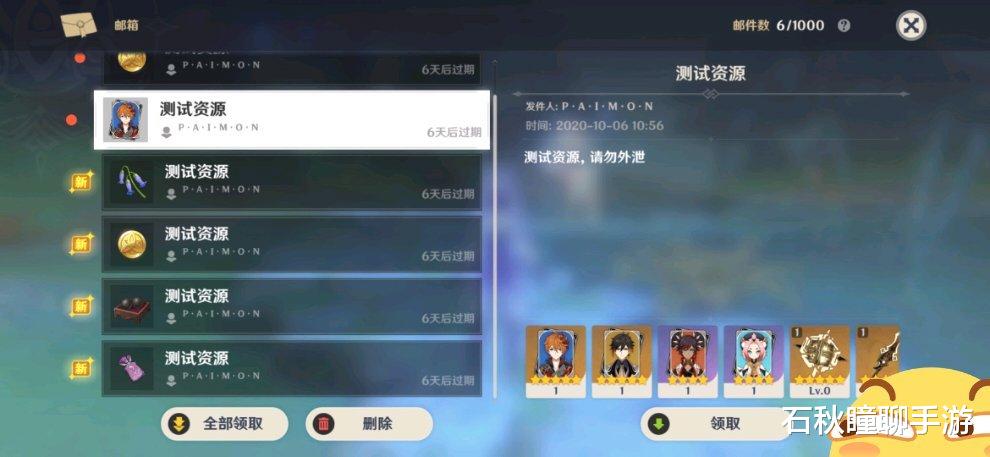 All the Genshin Impact version 1.1 beta test released characters details
Childe (Dadalia/达达利亚) 5 stars Hydro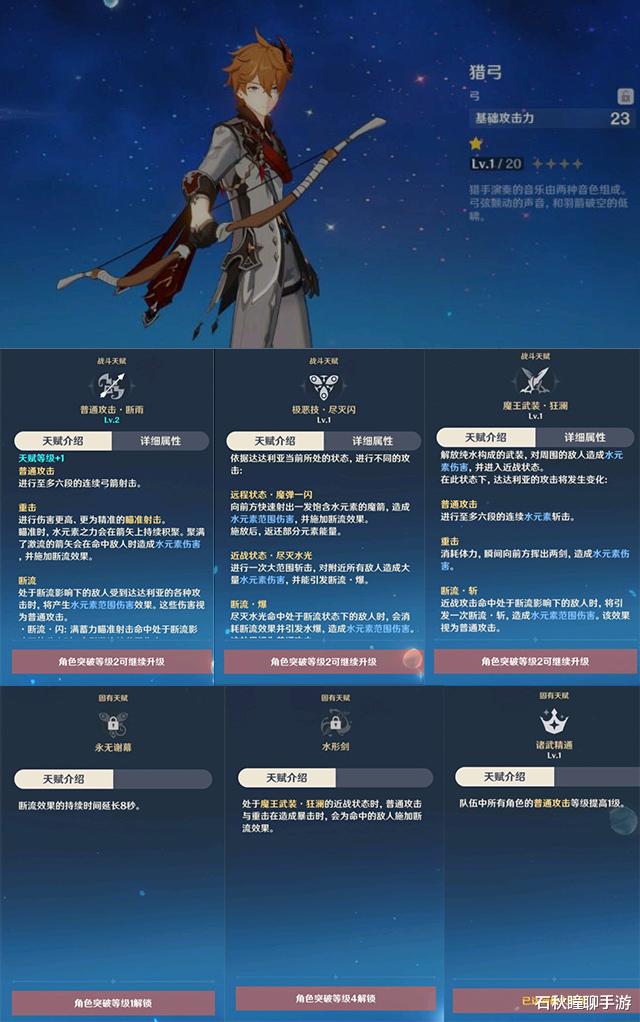 First one is an archer called Dadalia (达达利亚) who changed his name to Childe in English version. Hydro character who can perform up to 6 normal attacks. We have all seen him in 1.0 story and probably you have seen his showcase (if not we can make a video about it, leave us a comment).
Elemental skills: Change attack form into close combat form bow, slashing with 6 hydro hits. When attacking an enemy which has the status "断流" (duanliu, something like disconnected flow/ cut-off for direct translate), an additional Hydro elemental AOE damage will be added to the attack and the attack will be counted as normal attack.
Elemental burst: Depending on his current combat form, he will perform different attacks. A magic arrow will be shot out in archer mode and dealing damage to as Hydro elemental AOE damage with "cut-off" status effect. A large area slash damage will be performed if Childe is in close combat form.
His heavy auto attack will be Hydro damage and actually also gives enemy a "cut-off" status.
His passive skill INCREASES the normal attacks of the characters of the WHOLE TEAM for 1 level. Passive skill "hydro form sword" that unlocked at Level 70 can gives all his critical hits an additional debuff "cut-off" to enemies. Therefore Childe is designed to play with a critical build.
Childe/Tartaglia form that the Traveler will be facing in story.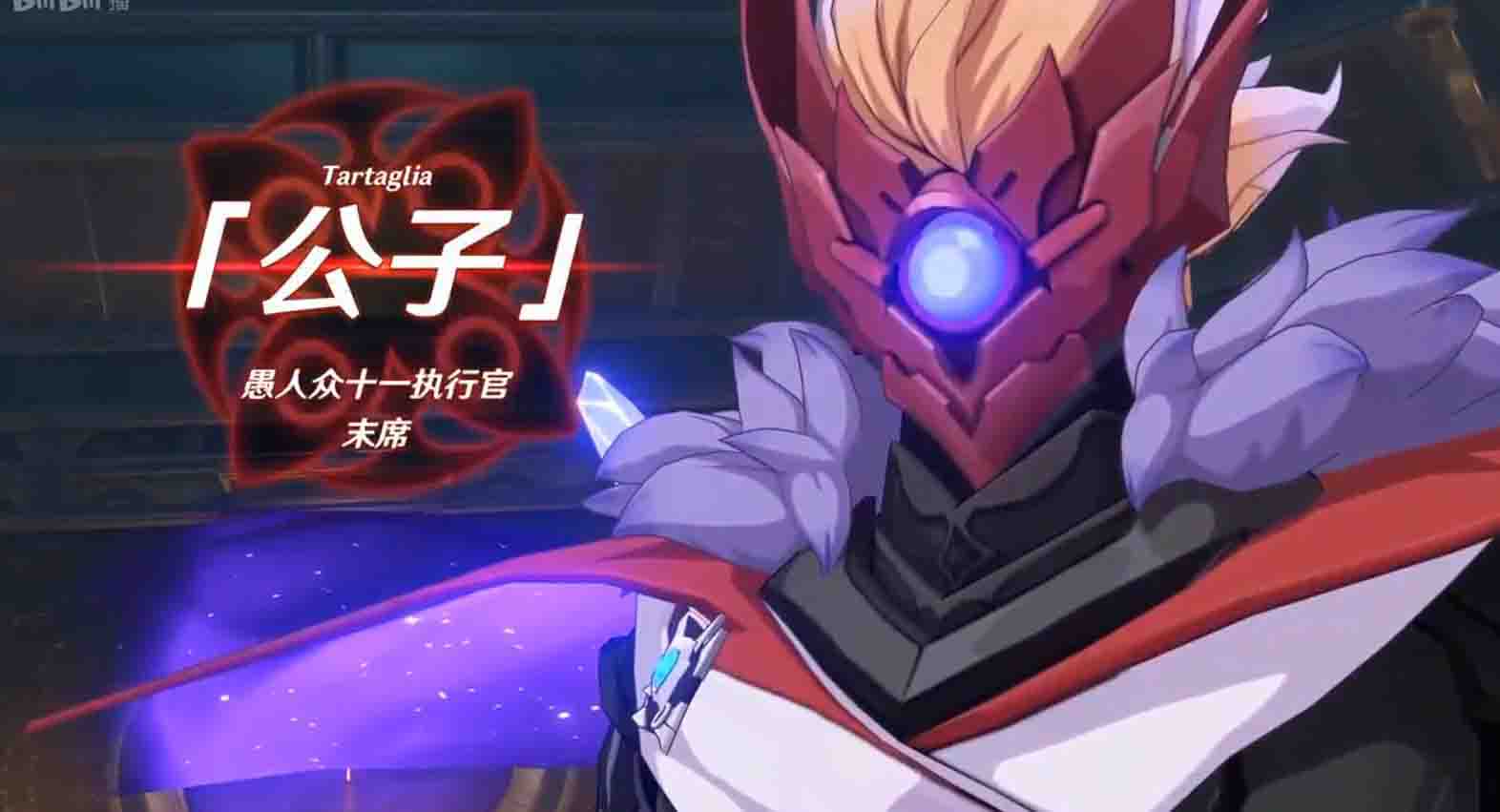 Zhongli 钟离 5 stars Geo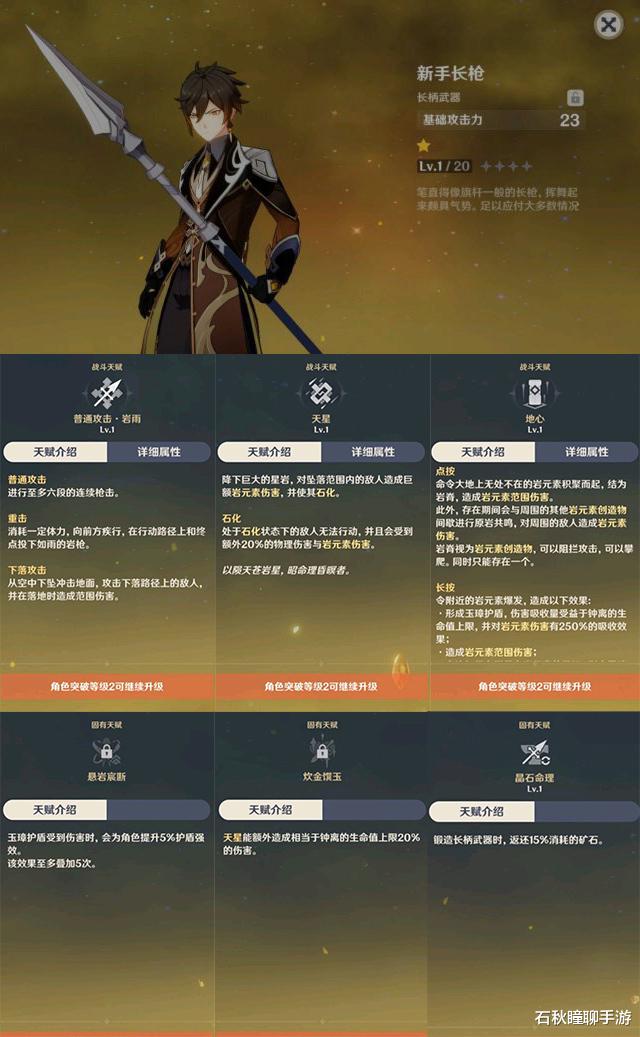 The second 5 stars character should be very familiar to everyone. It's Zhongli who appeared in 1.0 main story. This Geo character makes him very obvious that he is realated to the Geo Archons.
He uses polearm and can perform 6 normal attacks like Childe.
Elemental Skills: Gathering rock elements dealing Geo AOE damage, react and resonate with other Geo elements, continuously dealing damage to surrounding enemies. Only one rock ridge can be existing at a time (Traveller can do it twice at least), you can climb on it or use it to block attacks. When you hold the skills for longer you can create a 250% Geo elemental explosive damage, dealing damage while crating a shield.
Elemental Burst: the meteor strike falling from the sky can create an AOE damage to the enemy on the area, accompany with petrification effect. Petrified enemy will not be able to move and will receieve an addtional 20% of geo damage and physical damage.
His passive skills can futher increase the effectiveness of the shield. After the upper limit is unlocked at level 70, the elemental burst will cause additional damage based on his health.
Without considering constellation, Zhongli is considered as a tank character. Increasing his maximum health will be maximising his potential and effectiveness. His elemental burst will be his main source of attack damage.
Xinyang 辛焱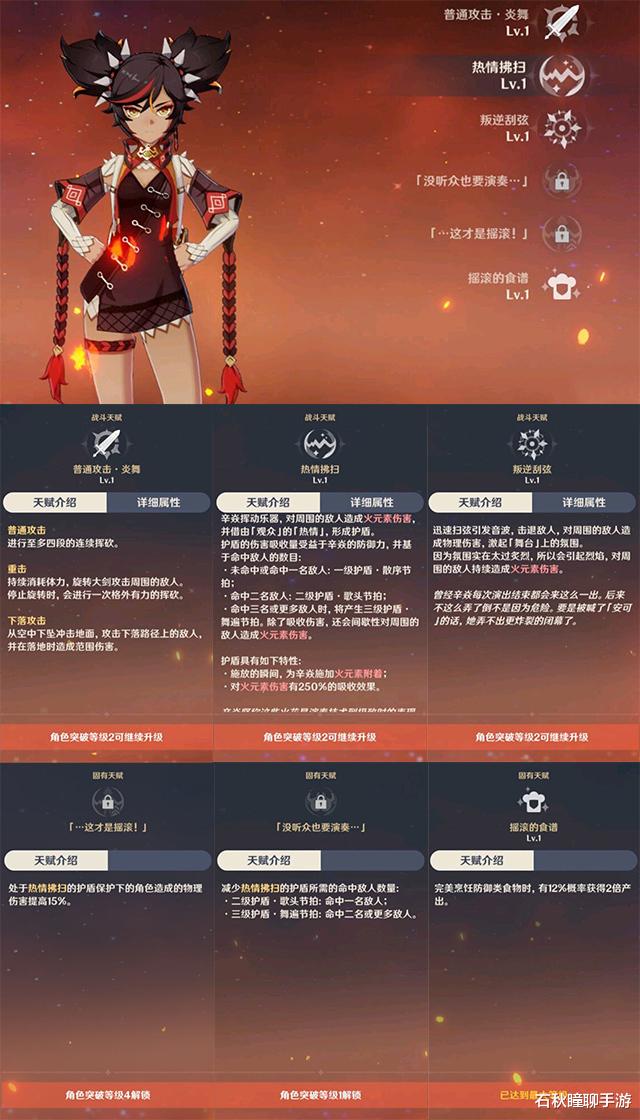 The third four-star character is Xinyang and she is obviously a pryo character. Using a two-handed sword as a weapon with 4 slashing normal attacks.
Elemental skills: Causing Pryo AOE damage to enemies and form a shield. Shield intensity depends on her defense rate and the number of enemies she hit.
When shield is active, Xinyang's normal attacks will add a pryo element on them. However enemies' pryo damage on Xinyang will be 250% too.
Elemental burst: It's one of the simplest yet brutal skills. It deals AOE damage to enemies in the area and create a continuous damage of pryo damage in the area.
One thing worth nothing is that after you unlocking the level 70 passive talent, under the protection of the shield that Xinyang's elemental skills created, will increase her physical damage for 15%.
From this point of view the design of Xinyang is actaully very similar to Noelle, who also uses a two-handed sword and creates shields. The only difference is that Xinyang is more inclined to create shield for protection with certain physical attack bonus with pryo elemental damage attaching on her attacks, where as Noelle is more as a healing support.
From the perspective of elemental interactions, Xinyang is very suitable to team up with other characters who can do high physical damage with some sort of hydro damages, for example the new 5 star character Childe we have talked about earlier on this article.
Diona 迪奥娜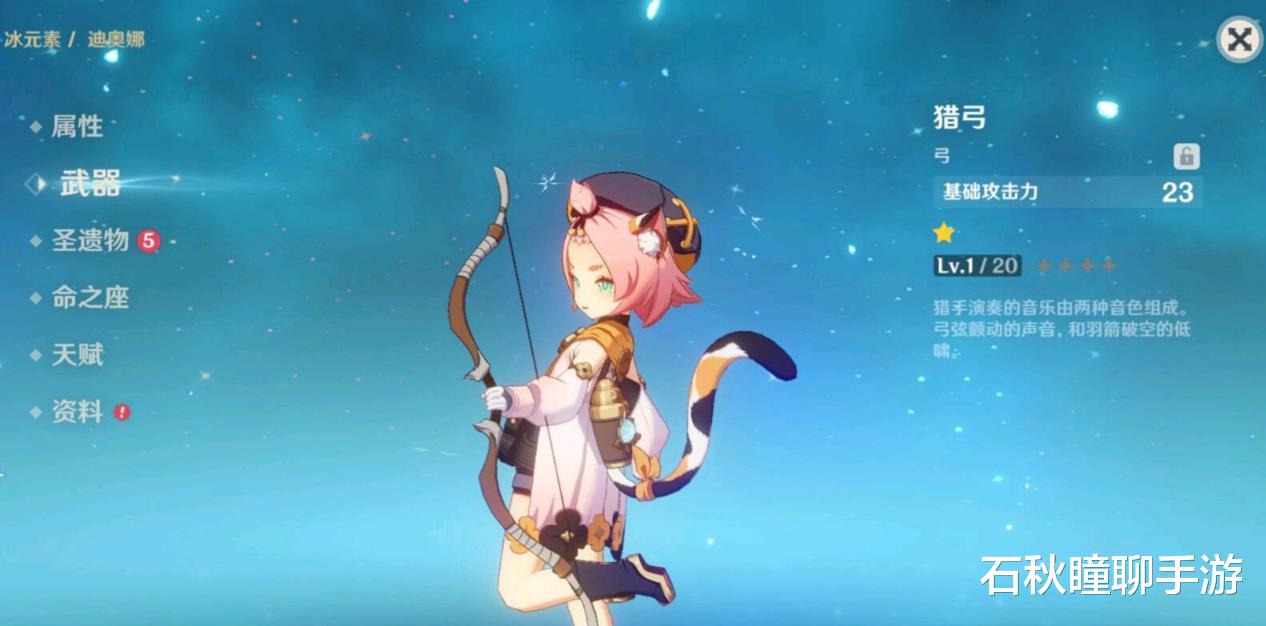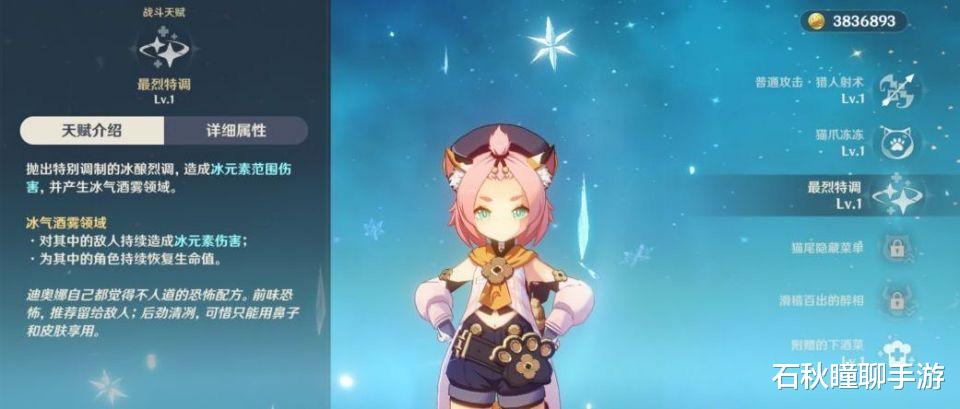 Diona is a cryo bow user. Her skills have the least leak details so far. The only thing we know so far is that she can create a cryo smog area and dealing cryo damage in the area, plus restoring health for your team members. It looks very similar to Jean's elemental burst.
1.1 beta testing leaked Items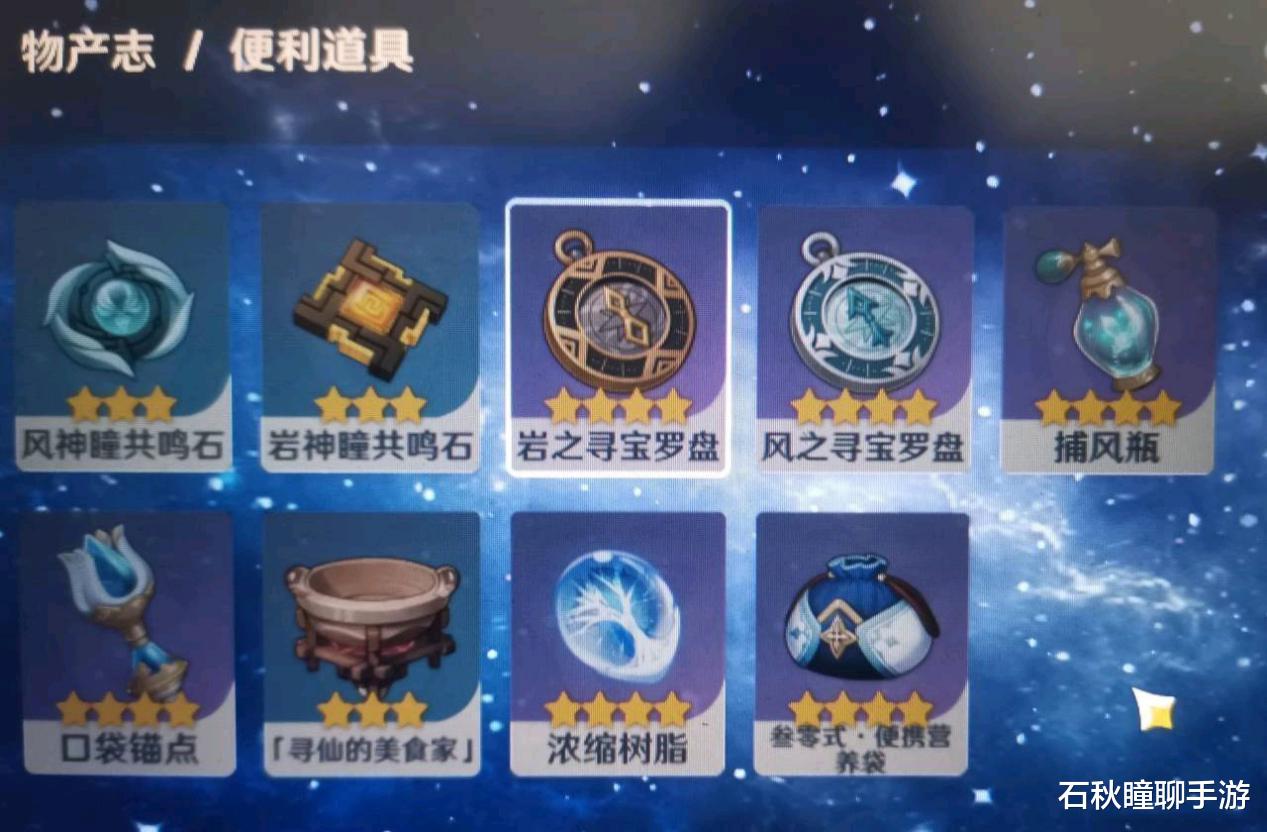 there are a few new items have been leaked. including resonate stones, compass,pocket anchor
Geoculus Compass Anemoculus Compass Anemo Bottle (Collect Anemo Wisp for refills) Food Bag (Quick way to eat) Portable Waypoints (Waypoint anywhere in the map) Portable Cooking Pot Resonance Stones
The compasses can be used to find nearby treasure chest
Resonance Stones are used to find Anemoculus and Geoculus. Consumable and can be used once only. Can be crafted in large quantities.
other leaked items (updating)
1.1 beta testing leaked events (updating)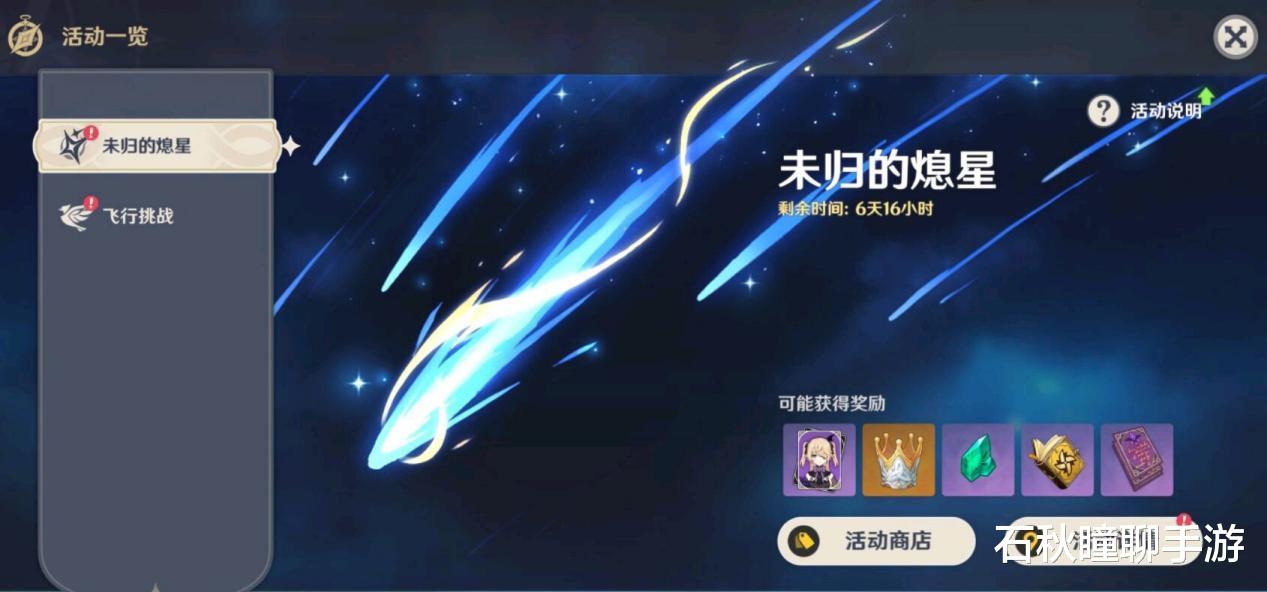 Unreturned Star Event. 3 different acts, 40 each resin to run. Play with 3 other players to reach 2000 points like previous event. Free Fishcl and other rewards for participating this event.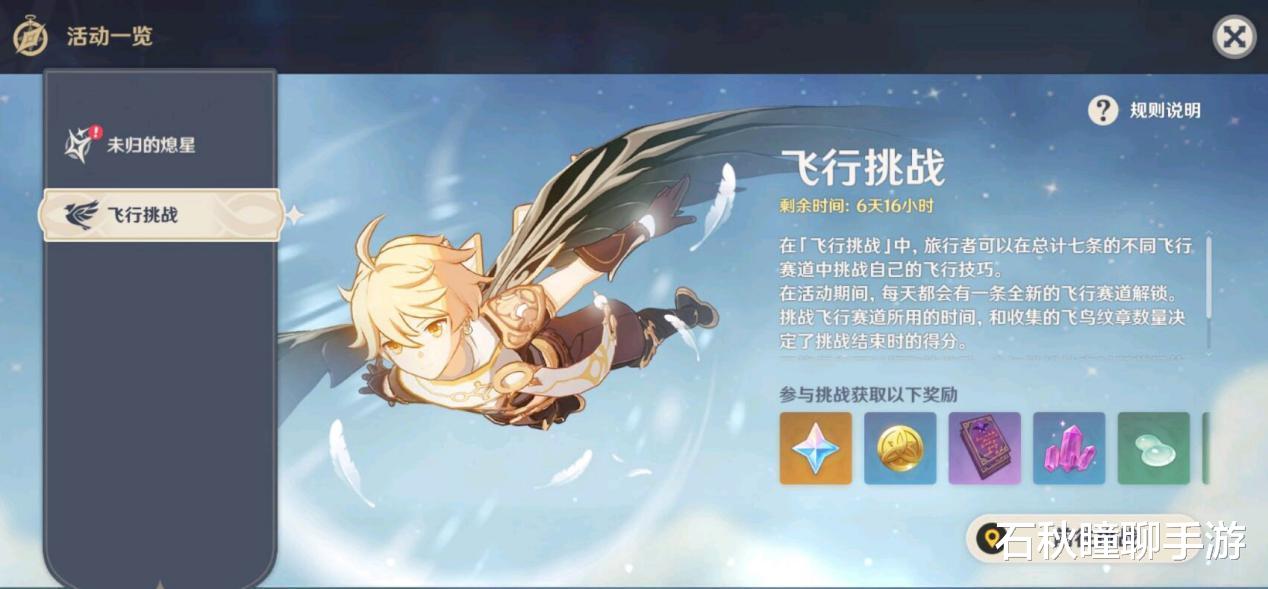 Reputation feature in v1.1
Both Liyue and Mondstadt will have a new reputation system. New NPC will be placed.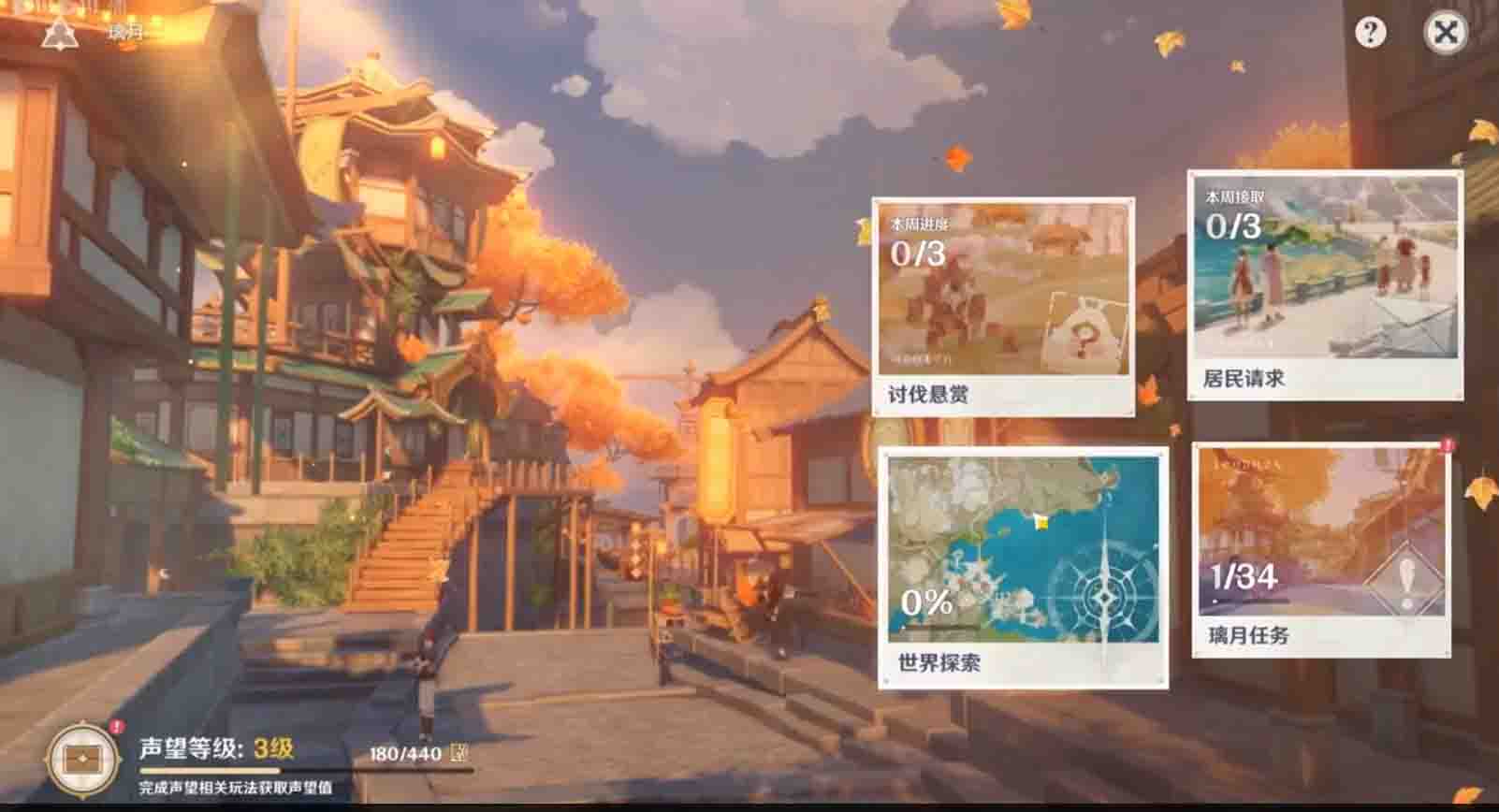 Childe Boss Fight Golden House Story Quest transition (Spoiler)
MiHoYo tried to ban this transition animation scene on internet
SPOILER ALERT! LEAVE NOW IF YOU DO NOT WANT TO KNOW ANYTHING ABOUT THE STORY
Here is the Childe Boss Fight Golden House Story Quest transition 1.1 leak video
Childe boss fight has two phases and this is the transition animation in the middle
Actually there is another guy named GenshinImpactTest who sacrifice himself for the following intermission animation.
We risk ourselves to give you want you want to know. Read our article here.https://t.co/XBYp0jnngd pic.twitter.com/2SIe7WXpdW

— Nipponhashi (@nipponhashi) October 31, 2020
[Leak] 鍾離 vs タルタリヤ 1.1 動画 Golden Houseストーリー任務(日本語) Tartaglia (Childe) vs Zhongli Boss fight Animation (japanese)
[Leak] 鍾離 vs タルタリヤ 1.1 動画 Golden Houseストーリー任務(日本語)
Tartaglia (Childe) vs Zhongli Boss fight Animation (japanese)
Leak Article : https://t.co/XBYp0jnngd#genshinimpact #原神 #原神好きと繋がりたい #原神project #Genshin_Impact #genshinimpactleak pic.twitter.com/ExMBL9fAt5

— Nipponhashi (@nipponhashi) October 31, 2020
…….. UPDATING 31/10……..
Please come back and check out regularly for new information. We will keep updating and kept you informed. Remember to follow our socials including twitter and donation us a coffee if you love to. @ us to start a conversation or pm us if you got secret information or topic you want us to investigate.
Follow Wojtek_kun on twitter youtube and twitch if you like his contribution.
Follow our twitter @Nipponhashi . Join our Discord . Subscribe to our youtube to get the latest information.